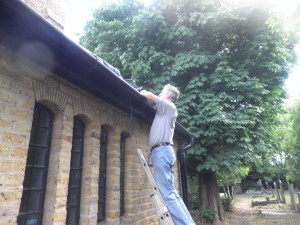 We normally have three really successful and enjoyable Parish Work / Open days during the year when lots of people roll up their sleeves and try to get all the little niggling repairs, cleaning and clearing jobs done in an atmosphere of general bonhomie along with good food provided to keep everyone going.
As part of this we welcome folk into the church whilst it is open; especially so in September when the day links in with Ride & Stride Day.
For those who come, the tasks are as varied as the skill set – from simple cleaning and tidying to quite complicated DIY with someone on hand to show you how. If you are able to assist in any way you will be most welcome. Your help will be very much appreciated as these regular efforts considerably reduce the overall maintenance costs of the Church and Halls: we save well over £500 in labour costs alone every workday, and can take pride in maintaining the buildings to a good standard.
We aim to begin about 10am to clear some of the tasks but you are welcome to come along at any time. Please bring your own tools if possible. Guidance and safety advice will be available. Please do not take any personal risks, particularly when using ladders. Don't forget that refreshments will be available in Church, with the usual spread at lunchtime.
AND, most importantly you are welcome to come even if you are not up to helping out with the jobs – just come and enjoy the company.
HOWEVER, if  at any other time during the year, you are able to offer help, there is always something that needs to be done. Any help will always be appreciated.