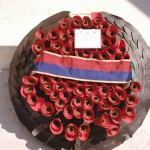 August 4th 2014 marked the centenary of when the United Kingdom declared war on Germany. It was eleven o'clock at night as Big Ben sounded out across the Thames – twelve by German time – when the ultimatum expired. In Europe, events had actually kicked-off on June 28th and began slowly to develop until conflict began on July 28th. Thereafter, events escalated.
 Britain found itself formally at war with Germany although our Armed Forces were mobilized in readiness during the days leading up to the ultimatum. The country and its empire become involved in a conflict which at its end, over 1,500 days later, would account for over ten million deaths and the world would be changed forever.
 The anniversary of the outbreak of the First World War is being commemorated throughout the country. Here at Holy Trinity Barkingside, a programme of events are being organised to mark the momentous occasion 100 years ago when the world was plunged in to the tragedy that was the Great War.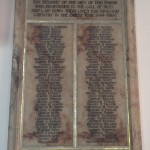 The symbolic heart of the programme will be the memorial plaque which is on the south wall of the church and shows the names of eighty-eight casualties known to us at the time. Like 1000s of other memorials which appeared during the 1920s in city centres, town squares, village greens and in churches across Britain, our plaque was erected as a permanent reminder of those men from our community who gave their lives during the first global conflict.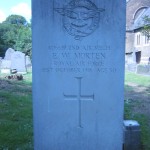 Despite ending in 1918, the images from the war are still incredibly powerful. Pictures of Tommy in the trenches at Flanders and on the beaches at Gallipoli, the guns of the Home Fleet firing at Jutland and the grainy film taken by daredevil pilots in their bi-planes as they circled over the Western front still resonate today.
 We too would like to play a small part in maintaining the collective memory of the conflict by helping Holy Trinity and the community we serve to pay homage to those who fought and died in the Great War. With some events already in mind, we would like to hear from you with other suggestions as to how best we can commemorate the events of a hundred years ago and even better, join us in putting together the programme.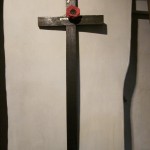 "We will remember them"
The names of the Fallen of our Parish will be remembered on the nearest Sunday to their anniversary.
If you are related to or have any information about any of our names please contact the Parish Office.
1914
Oct 26 Private Alfred E Noble L/10862 4th Battn Royal Fusiliers
Nov 29 Gunner Harry Porter 69149 67th Bty Royal Field Artillery
Dec 19  Corp Henry Gomme L/10250 4th Battn Duke of Cambridge's Own (Middlesex Regt)
Dec 21 Private Jesse Cumper 1964 8th Battn (King's Royal Irish) Hussars
1915
May 13 Trooper Samuel J A Potts 2634 2nd Battn Life Guards
May 14 Serjnt John Draper 32 Essex Yeomanry Battn
May 27 Stoker 1st class RN Albert Bollinson 311465CH HMS Princess Irene
Jun 08 Private Thomas Cole 1007 1st Battn East Surrey Regt
Jul 12 Stoker 1st Class RN George E Dyke SS/101047 Hood Battn Royal Naval Division
Aug 06 Private Arthur Wheeler 18239 1st Battn Essex Regt
Aug 06 Private William Simmonds 16643 1st Battn Essex Regt
Aug 07 Private Charles Crawley 14842 6th Battn Royal Inniskilling Fusiliers
Aug 21 Private Andrew Thomson 10595 1st Battn Border Regt
Sep 29 Guardsman Henry Morley 19155 3rd Battn Grenadier Guards
1916
Apr 21 Private William C Whitham 19562 7th Battn Norfolk Regt
Jun 16 Private Charles F Murray SPTS/1796 23rd Battn Royal Fusiliers
Jul 01 Corporal William Hunt 6455 1st Battn Essex Regt
Jul 01 Serjeant Alexander B Murray 1460 1/9th Battn (Queen Victoria Rifles) London Regt
Jul 03 Private Edward Rawlings 24533 9th Battn Essex Regt
Jul 04 Private Jack Scarborough 11068 9th Battn Essex Regt
Jul 14 Private Frederick Linsell 13774 10th Battn Essex Regt
Jul 20 Private Albert Durrant 23731 2nd Battn Suffolk Regt
Jul 30 (civilian) Sidney Lee Woolwich Arsenal
Aug 01 Driver Ashton Taylor 42211 23rd Div Royal Field Artillery
Aug 04 Private James Everitt  G/5848 6th Battn  Queen's Own (Royal West Kent Regt)
Aug 13 Rifleman Seymour Taylor S/7525 3rd Battn Rifle Brigade (The Price Consort's Own)
Aug 29 Private Frederick L Andrews SD/3886 11th Battn Royal Sussex Regt
Sep 14 Guardsman Philip Smith 13473 2nd Battn Grenadier Guards
Sep 15 Rifleman James Martin B/947 9th Battn Rifle Brigade (The Price Consort's Own)
Sep 27 Private Sidney Clark PW/4061 18th Battn Duke of Cambridge's Own (Middlesex Regt)
Sep 28 Private George Hunt 18430 11th Battalion Essex Regt
Oct 12 Private Arthur Woolmore 24583 9th Battn Essex Regt
Oct 19 Private Walter Passfield E/1959 22nd Battn Royal Fusiliers
Nov 03 L/Corporal Alfred R Gowen 25752 12th Battn Duke Of Cornwall's Light Infantry
1917
Jan 25 Trimmer Merchant Marine Reserve Alfred Todman 816995 HMS Laurentic
Mar 27 Private Reginald J Coleman 200375 4th Battn Essex Regt
Mar 27 Private Walter Scott 200871 1/4th Battn Essex Regt
Mar 27 Private Bertram P Poulter 275870 1/6th Essex Regt
Mar 28 L/Corporal Walter C Simms 13292 Machine Gun Corp
Apr 13 Private George Terry 29315 1st Battn Essex Regt
Apr 20 Private George Crossby 21654 1st Battn Essex Regt
Apr 28 Serjt George H J McKelvey  G/34199 17th Battn D of Cambridge's Own (Mddx Regt)
May 01 L/Corporal Walter Bailey 24586 13th Battn Essex Regt
May 04 Private Albert Blenkinsop 36459 3rd Battn Essex Regt
May 04 L/Corp Charles W Mulley 6408 1st Battn Essex Regt
May 26 Private John Stringer 40138 8th Battn Bedfordshire Regt
Jul 10 Private Robert W Webb 31320 1st Battn Northamptonshire Regt
Jul 28 Bombardier John C Ingram 25488 111th Heavy Bty Royal Garrison Artillery
Jul 31 Private Ernest Rippingale  27616 7th Battn Northamptonshire Regt
Aug 11 Private Leonard Taylor220025 6th Battn Queen's Own Cameron Highlanders
Aug 11 Gunner Joseph Radley 76356 76th Army Bde Royal Field Artillery
Aug 11 Private Alfred Bailey G/36256 2nd Battn Royal Fusiliers
Aug 13 Private William Pearce 26010 8th Battn East Surry Regt
Aug 19 Private James G W West 203142 1/8th Battn Worcestershire Regt
Aug 27 L/Corp William C Betts  40553 6th Battn Alex. Princess of Wales's Own (Yorks Regt) Aug 30 Gunner Charles Brand 111095 177th Heavy Bty Royal Garrison Artillery
Sep 20 Private George W Brand 41191 9th Battn Alex. Princess of Wales's Own (Yorks Regt) Sep 29 Serjeant Ernest W Cutting  200080 1st Coy Tank Corps
Oct 09 Private Richard S Taylor 448036 Royal Medical Corps
Oct 31 Corporal Thomas Rawlings 21305 13th Battn Essex Regt
Nov 02 Second Lieut Harry Lancaster 1/4th Essex Regt
Nov 17 Rifleman John Hardwick 574762 17th Battn Co of London Regt (Poplar & Stepney)
Nov 18 Private Thomas Wenn 29262 10th Battn Essex Regt
Nov 20 Private George Lee G/21203 6th Battn Buffs (East Kent Regt)
Dec 12 Pri Leonard P Edwards 532584 15th Battn Co London Regt (P of Wales' Own CS Rifles)
1918
Jan 16 Private Ralph T Newstead  40650 4th Battn Bedfordshire Regt
Mar 12 Private Arthur J Bass 17347 9th Battn Essex Regt
Mar 13 L/Sergeant Ernest Bailey 18707 2nd Battn Grenadier Guards
Mar 21 Private Herbert E Burgess T/202522 1st Battn Buffs (East Kent Regt)
Apr 02 Private George E Bodington 43747 6th Battn Lincolnshire Regt
Apr 12 L/Corporal Alfred R King  41280 10th Battn Essex Regt
Apr 17 Gunner Frank H Waller  181556 122nd Bde Royal Field Artillery
Apr 24 Private Charles W Green 267093 5th Battn Sherwood Foresters (Notts & Derbys Regt)
Apr 26 Private Reginald Walker 35274 1/5th Battn Alex. Princess of Wales's Own (Yorks Regt) May 19 Private George S Shrubshall 9899 4th Battn Worcestershire Regt
May 24 Private Robert Farrow G/16930 94th Coy Labour Corps
Aug 14 Gunner James Manning 163670 337th Bde Royal Field Artillery
Aug 23 Captain James H Maywood 1st Battn Duke of Cornwall's Light Infantry
Aug 31 Rifleman Sidney Lucas 345113 6th Battn London Regt (City of London Rifles)
Sept 09 Seaman RN Edward J Roberts 207870 SS Missanabie
Sept 12 Private Albert E Chinery 30609 2nd Battn Oxford and Buckinghamshire Light Infantry
Sep 18 Private Frederick T Gedge 58356 6th Battn Northamptonshire Regt
Sep 21 Serjeant Harry Kemble 40129 2nd Battn Bedfordshire Regt
Sep 26 Private Percy P Church 5269 3rd Battn Royal Fusiliers
Sep 29 Rifleman John Bretton 50009 16th Battn King's Royal Rifle Corps
Oct 02 Air Mechanic 2nd Class E W Morten 406699 Royal Air Force
Oct 04 Gunner Horace Bareham  68155 47th Bty Royal Field Artillery
Oct 09 L/Bombardier William T Harris 50255 113th Bde Royal Field Artillery
Oct 22 L/Corporal George Linsell 41516 9th Battn Royal Fusiliers
Oct 25 Private Alfred Dance G/95370 23rd Battn Duke of Cambridge's Own (Middlesex Regt)
Nov 04 Serjeant Albert French 17247 1st Battn Essex Regt
Nov 06 Sapper Alfred Warwick 36927 88th Coy Coprs of Royal Engineers
Nov 29 Private Ernest J Swanborough M/112621 Royal Army Service Corps
Dec 15 Private William J Smith 533117 Labour Corps 
We have no definitive information of these men.
If you can help identify them, please contact us, as above. Thank you.
George Durrant
Frederick Hunt
 Richard King
William Lee
Henry Stevenson
Frederick W Taylor
Harry T Taylor
John Thorogood