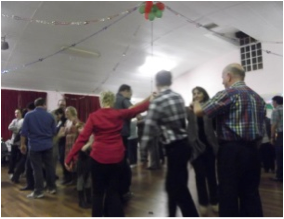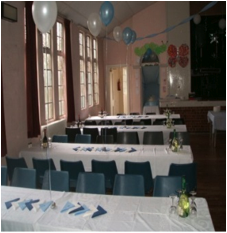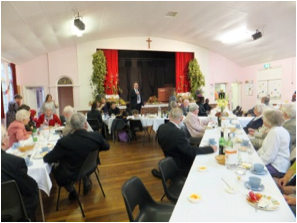 Pictures From Parish Hall
We have two halls currently available for hire:
Parish Hall is spacious and has a stage with lighting appropriate for amateur dramatics. The hall seats 100 and has a fully equipped kitchen.There is ramp access and facilities for the less able.
Minor Hall is a small hall/large meeting room at the rear of Parish Hall with a       capacity of about twenty and access to the same facilities. Available for hire separately or together with Parish Hall.
Trinity Hall is not available at present for hire
To book or for more information Email: hallbookings@holytrinitybarkingside.org.uk
or contact the Parish Office. If the office is closed, please use Email.
Hall hire charges 2020
PLEASE NOTE THAT THERE IS NO AVAILABILITY ON SUNDAYS OR HOLY DAYS
Weekdays Parish:
Daytime hire                                                                           £27 per hour
Evening hire                                                                           £32 per hour
Please speak to us about rates for regular hirers
Friday evening:                                                                    £150 for 4 hrs
Saturday until 6pm: **
For first 3 hours                                                                      £150
Extra hours before 6pm                                                        £35 per hour
after 6pm                                                                                  £45 per hour
Saturday evening after 6pm:  **
4 hour let 7pm to 11pm                                                          £200 per 4 hours
Extra time before 7pm                                                           £45 per hour
Minor Hall at any time                                                          £20 per hour
Other charges
Deposits:
*£200 for all evening lets – refundable if hall left in an acceptable condition & on time
* £150 deposit for all Saturday afternoon lets
* £50-£100 for mid-week afternoon lets, e.g. wakes, depending on duration
Extras
* £25 if more tables & chairs are required
* £10 if stage lighting required – not available at certain times of the year
Please note:
Children's parties up to 11 years old only 3hrs before 6pm
Parties for children over 11, 18th, 21st, 30th, 40th, engagement or wedding reception bookings cannot be accepted nor certain other types of event
** Parties which significantly overlap afternoon to evening, are charged at the higher rate, e.g. 2pm to 11pm starts off at £200 for the 7pm to 11pm slot plus 1 hour at £45 and the rest at £35 per hour.**
There is no availability on Sundays