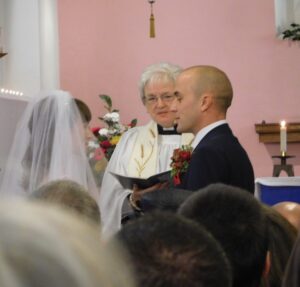 We would love you to get married here, but according to the law, you either need to live in a certain small geographical area, worshipped with us for at least six months and become a member of the Electoral Roll, or to have a historical attachment to the Church through your parents or grandparents. So long as these basic legal requirements have been met, we would love to marry you!
For more information, contact the Parish Office.
Rev Andrew Appiah: Andrew.appiah@holytrinitybarkingside.org.uk
Tips for Planning your Wedding
Get started right away.  However long it is until the big day, you will suddenly wake up and discover that all the time has gone.  There is so much to do, so start at once.
Book a relaxing honeymoon. You may be very tempted to abseil Everest or to           wrestle with lions in sub-Saharan Africa. But after the wedding you will both be        exhausted. At least put a few days at the start of the honeymoon just for relaxing, resting and recovering. You can always take a second week to do something more adventurous.
Always have a friend on hand as a reserve photographer.  If something goes wrong with your main photographer's photos, it does not matter how much financial            compensation they give you, it will not make up for not having photos of your          special day.