New Vicar
We are currently in an interregnum and looking for a new vicar. If you are a Church of England ordained priest looking to join an active Charismatic Catholic parish please have a look at our Parish Profile and the advert on the Chelmsford Diocesan website for full details and how to enquire further. We look forward to receiving your application! (Closing date 17th November 2021)
Coming up each week at Holy Trinity Barkingside Church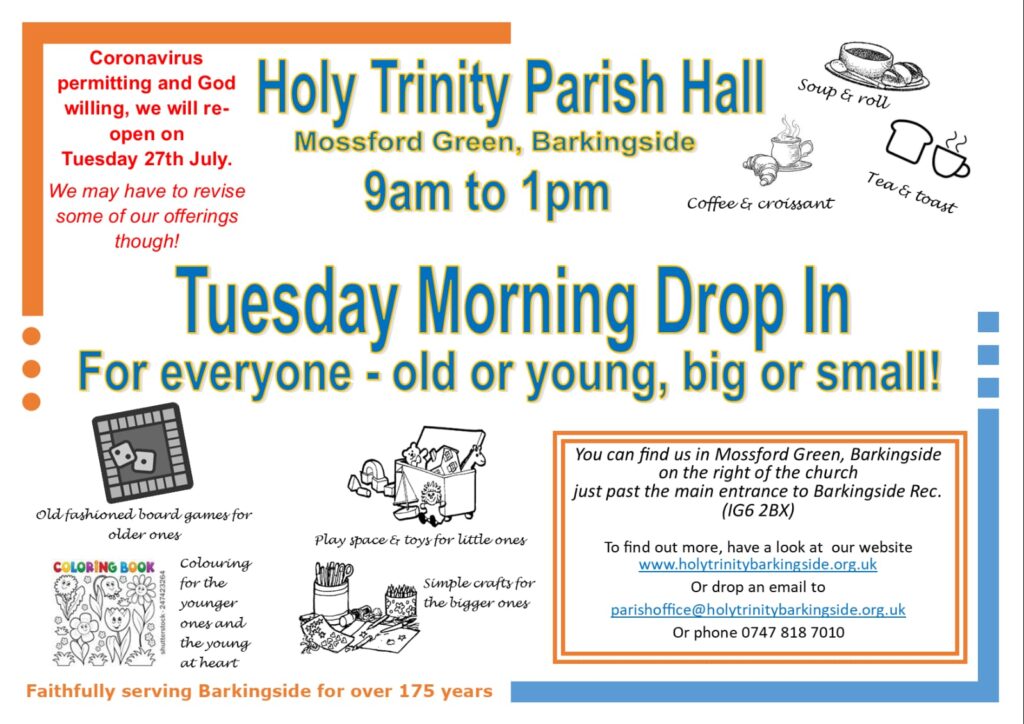 This week at Church (some C-19 RESTRICTIONS will continue to apply)

Open for Private prayer Monday, Wednesday and Friday
Tuesday Morning Drop-In, 9 am-1 pm in Parish Hall All welcome – bring a friend!

Sunday 10.30am Mass in church – will also be streamed on our Facebook Page
Please bring you own mug and take it home to wash as part of eco-church initiative

Tuesday 9.15am – Lectio Divina – in church and on zoom
Wednesday 9.45am Mass – in church only
Thursday 7.30pm – Conversations for Advent – in church and on zoom

Sunday 5th December—Carols by Candle light with Fairlop Brass at 6:30pm
Tuesday 14th December—Mothers' Union Carol Service at 2:30pm
Our clergy will continue to pray and hold our faith community and parish community to God. 
Copy and paste this link:
https://www.facebook.com/Holy-Trinity-Barkingside-126325346912/
You may want to use the following prayer:
Heavenly Father,
we hold our nation to you at this difficult time.
We ask you to pour out your healing blessings upon us.
We particularly hold before you those who are suffering with
coronavirus and all the health professionals who are caring
for them.
Give us the strength and encouragement we need each
day, and fill us with your love and compassion for all people.
Through Jesus Christ our Lord. Amen
"God gave us eternal life, and this life is in his Son. Whoever has the Son has life; whoever does not have the Son of God does not have life. I write these things to you who believe in the name of the Son of God, so that you may know that you have eternal life."
(1 John 5:11-13)
IMPORTANT NOTICE
Please note that the Parish Office will NOT BE OPEN weekday mornings but you can always contact the Parish Office by Email. 
Holy Trinity Church, Barkingside: REGISTERED CHARITY No. 1128271