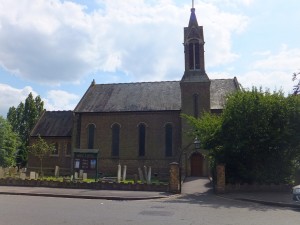 There are several ways to contact us. The central point is the PARISH OFFICE which is usually open between 10am and 12 noon, Monday to Friday. You can find us just inside the Church to the right of the door. The address is:
Holy Trinity Church
Mossford Green
Barkingside
ILFORD
Essex, IG6 2BX
IMPORTANT NOTICE
Please note that it will not always be possible to open the Parish Office every day, As an alternative, please contact us by Email.
Phone:  07478 187 010 There is voice mail and we will return your call as soon as we can. If you leave a message or send an email, please give your name and contact details and a brief outline of your query or, if you know it, the name of the person you need to contact. Thank you.
You may also contact us via Email:
andrew.appiah@holytrinitybarkingside.org.uk  Curate-in-Charge
parishoffice@holytrinitybarkingside.org.uk              general enquiries
priest@holytrinitybarkingside.org.uk                         (vicar)
churchwarden.laura@holytrinitybarkingside.org.uk       churchwarden
churchwarden.chris@holytrinitybarkingside.org.uk      churchwarden
secretary@holytrinitybarkingside.org.uk                    focal point for official correspondence
accounts@holytrinitybarkingside.org.uk                    payments, donations and Giving
hallbookings@holytrinitybarkingside.org.uk             hall hire
parishmagazine@holytrinitybarkingside.org.uk        Trinity Times Parish Magazine
mothersunion@holytrinitybarkingside.org.uk          Mothers' Union branch
scouts@holytrinitybarkingside.org.uk                        3rd Ilford North Scout Group
webmaster@holytrinitybarkingside.org.uk                webmaster