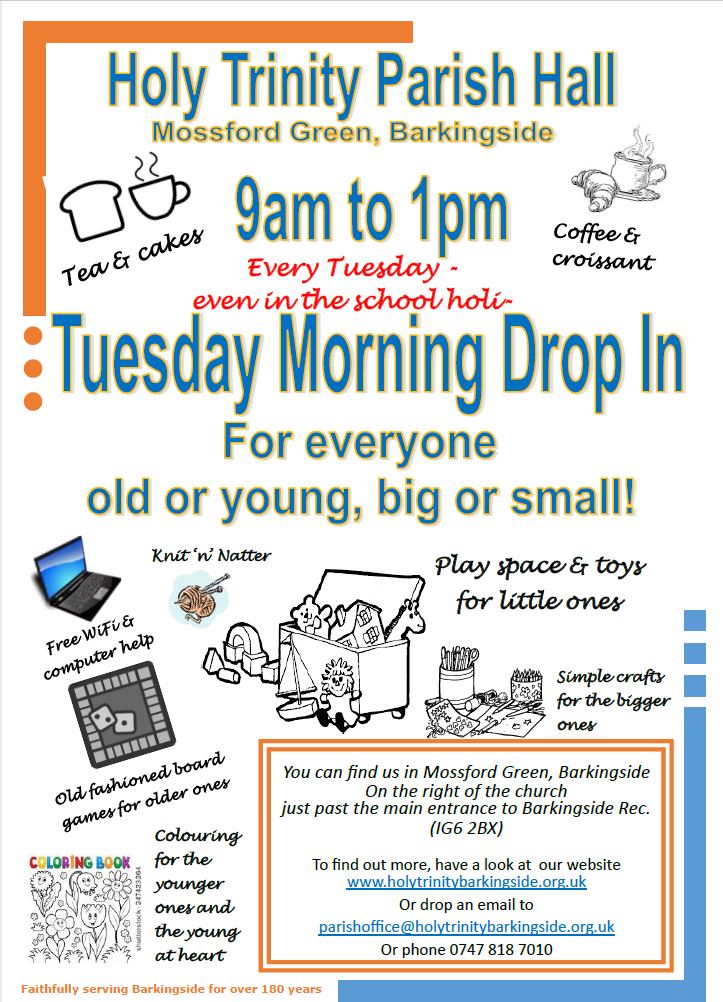 Every Tuesday this is the place where people come and enjoy friendship, games, crafts and knitting, eating, and there is even a toddler's play area. We also love to pray with you if that is what you like! Drop in when you can – on the way back from the school run or shopping or the doctor's. Stay as long as you like. We would love to welcome you!
Who it's for:
• For everyone – old or young, big or small
• For mums, dads, grannies, grandpas, singles, carers & children
• For older people who want to get out of the house
• For young mums looking for a friend
• For those in between who just fancy a chat and a cuppa
Where & when:
• In Holy Trinity Parish Hall (next door to Holy Trinity church)
• Every Tuesday from 9am to 1pm
What happens:
• Tea & biscuit or coffee & croissant plus cakes & crisps
• Other people to talk to
• A safe play space and toys for the little ones
• Something for everyone from the youngest to the oldest
• Activities such as simple craft, calming colouring, old-fashioned board games, computer help, knit'n'natter & jigsaws
• Warm space with free refreshments (donations accepted)
How much does it cost?
• There is no charge, but voluntary donations are welcome
Any questions? Want to visit, or get involved? Please get in touch with Maxine Paul, or Tricia McCarthy @ 07478 187 010, or contact the Church Office.